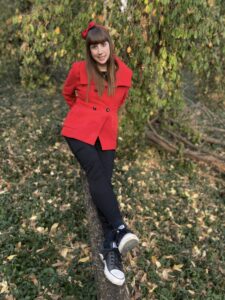 Katie Gilstrap began her career as a writer while working at a veterinary clinic in Kansas. When she found herself composing poetry and short stories about the animals she cared for there, she knew she needed to change her major in college from pre-veterinary to English. Six years later, Katie earned her Master of Arts in English from Kansas State University, and now, even though Katie feels that writing is her true calling, she still has a passion for animals and strives to incorporate them into her work as much as she can.
In addition to animals, Katie also enjoys writing about the topic of mental health. As a person who has coped with panic disorder, depression, agoraphobia, and OCD for most of her life, Katie is eager to celebrate neurodiversity in children's literature by writing kid-friendly books about panic, fear, and anxiety. If an animal happens to make its way into her story, well, then that's an added bonus!
Katie currently lives in south central Kansas in the company of many animals. She has two dogs, two birds, and a neighborhood cat she likes to call "Sassafras." When she's not having deep conversations with her furry (and feathery!) friends, Katie can be found writing in her basement, doodling in her sketchbook, and shopping for the cheapest sunglasses she can find.